My weeks are filled with all kinds of fun things including painting classes.  Every couple of weeks I am lucky enough to be able to take time for Richard Hawks classes.  Richard has slowly pushed me to a new level of art.  Is it perfect….NO.  I don't do perfect, and Richard doesn't like perfect either.  He is an abstract painter who has been of great benefit to me as an artist.  Certainly I was stuck in a stale, stagnate, rut when I decided to take his abstract workshop.  Here all these months later, I'm doing things I never thought of, and still being pushed to do more.  Where am I going to end up?  It doesn't matter to me because I know wherever it is, it's more than I could have accomplished by myself.
Timing is everything don't you agree?  Since I was part of the abstract workshop, I joined another workshop, Oil on Copper!   Well I really didn't think I was going to like it because I didn't want to have to buy Copper or Oil paint.  But there is so much more needed for this process, I couldn't conceive of myself wanting to create this way.
Surprise  I loved it all,  I ate it up like a little kid with a chocolate sunday.  Now I don't want to do anything else but paint on copper with oil paint.   So little by little I'm purchasing the supplies I need for this type of art.  My studio is already stuffed with supplies in watercolor, and acrylic.  Not only am I looking for more oil, I'm looking for all the things that go with painting on copper in this manner.   It must be my lucky day,  I love to learn new things.
I'm sure there are all kinds of ways artists paint on copper, this method is different.   That must by my hook! Once again Richard Hawk does a great workshop.
There is going to be another Abstract Workshop, and because it has helped me so much I have posted the information for those of you who might be interested. While I'm here I want all of you to know that the painting I posted is a Richard Hawk painting. I'd love to tell you it was mine, maybe next time!
'Workshop: Beyond Belief  III' • Encinitas, California
A meditative, consciousness-exploring workshop based in painting.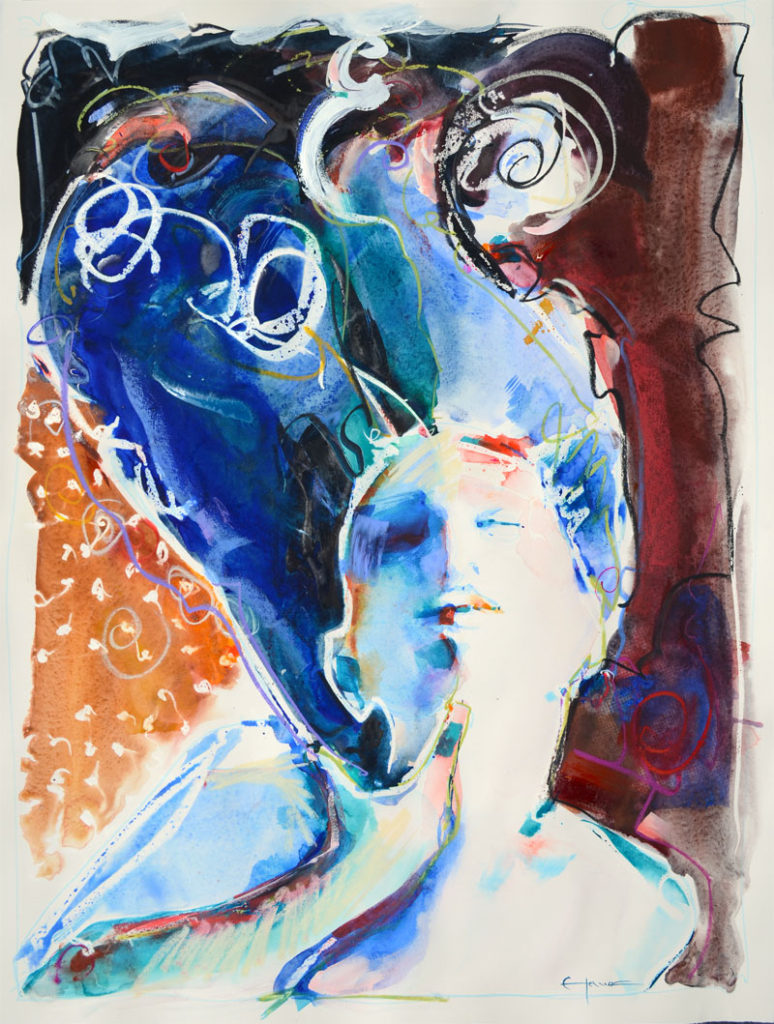 Dates and time
July 20, 21 & 22 (Friday, Saturday, Sunday) 2018
10 AM to 3:30 PM
Cost
$330 for three days
Over the years I've had many conversations with artists/students about the metaphysical aspect of painting. The place where the physical and psychological acts of painting meet the purely energetic, the spiritual, even. There is no question that there is something about art that is 'beyond' – that is why we make art and why we look at it. But exactly what is going on here? There is no doubt that it has to do in part with the 'belief' system of the artist – and the viewer.
A workshop aimed at the center which is not in the middle. The light which casts no shadow.
Together we will explore the deliberate, intentional pursuit of the non-physical in the creative process. We'll have some bust-out conversations spurred by readings from the likes Wayne Dyer, Thich Nhat Hanh, Kahlil Gibran, Mary Lou Cook, Rumi and Robert Pirsig. This will be the third in the series for this exciting and uplifting workshop experience.
Note that just because we are expressing freely and intuitively in paint it does not mean that we abandon principles of good design, attention to shapes, edges, values, color, line, pattern and all the other tenets of success in painting. Far from it. Inspired work happens within form. There is plenty of attention to practical technique and practices. There will be painting demonstration each day (if the group desires it).
Call 760.504.4015 or write to me using the form at the bottom of the page and receive a call or email to complete your registration and get instructions. Questions? Please use the same form or call.
Catered
The mid-day meal each day will be catered (organic vegetarian) so that our creative involvement can be as continuous as possible.
• The workshop is small by design. If you're interested, please don't delay • Bring objects of or images of personal meaning that you can use for your paintings • Observe painting demonstrations • Learn new ways forward on your own creative path • Enjoy the collective spirit of like-minded creatives
To Sign Up
Simply send a message using the form at the bottom of the page or call 760.504.4015 and you will receive an email or call back for registration and instructions. I look forward to painting with you.
Thank you for taking time to read Karen's Stone Soup, see you next time…